Kabaddi, the national game of Bangladesh and the state game of Tamil Nadu, Haryana, Karnataka, Bihar, Andhra Pradesh, Maharashtra, and Kerala, is a prevalent contact team sport of South Asia. It is known by diverse names in different states of India, but the ritual remains the same.
Kabaddi or any sport for that matter completely revolves around the physical and mental skills of the player. This is because a player needs to be physically strong and mentally canny to swirl around and trick the opponent team smoothly. And what is the best way to level up on the outer and inner requisites? Yoga!
How can practicing yoga asanas help a kabaddi player?
Read Full Article

High-intensity sports like kabaddi, wrestling, etc. holds high potential to strain a player's body. To make certain that the limbs, shoulders, wrists and lower back stay in fine fettles, yoga asanas like Tadasana, Utkatasana, Trikonasana, Ardha Chakra Asana, Pawanmuktasana, Sarvangasana can be practiced.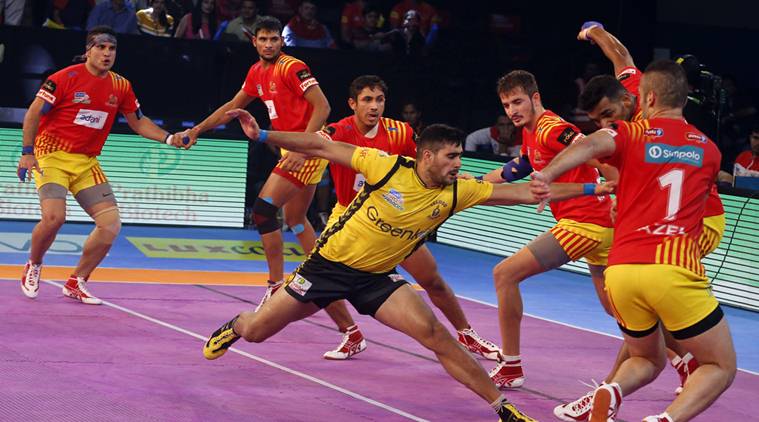 Kabaddi is a game where multi-tasking goes without saying. A player has to be attentive enough to chant 'kabaddi' and keep an eye on the opponent's move. A little glitch from one player can turn the game around in no time. As much as kabaddi is a game based on physical strength, it is equally weighed on mental cognizance. To keep the heat low and mind in place, one really needs to train the mind to be calm in the toughest spots. This can be achieved only with a pervasive practice of yoga asanas and yoga meditation.
Other complementary levels:
This game mandates a player to utter the word 'Kabaddi' till the time his turn to play isn't over. Due to this the energy level of the player deteriorates and eventually leads to tiredness thus affecting his overall performance in the game. Yoga practices like yogic breathing, Nadi shodan pranayama, Bhramari and Ujjayi pranayama enhance the lung capacity and endurance of the player.

Are you an aspiring Kabaddi player or a pro? Indulge in yoga and witness your enactment on the ground touch heights that are nothing less than sky high. Feel you are too caught with on-ground practice and can spare no extra time traveling? Fret not! Healers at Home has got your back with at home yoga services where our certified yoga tutors work closely with you to understand your personal needs and concoct a plan that supplements your Kabaddi practice. Hit us up now!

Show Less